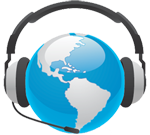 Golden Tongue Consultants, Inc. provides interpreting services in multiple language combinations through experienced and skilled interpreters. These services are provided in settings such as court hearings, depositions, worker's comp hearings, doctor/patient visits, attorney/client consultations, group meetings, among others. We provide the following types of interpreting:
Simultaneous interpreting
Consecutive interpreting
On-site interpreting
Phone interpreting
Group interpreting
The above types would be selected according to the best fitting method that would meet your interpreting needs. Furthermore, our interpreters comply with an established Code of Ethics which calls for a strict adherence to confidentiality of information.
START BY CONTACTING US, OR 

REQUEST A QUOTE

, TO TELL US OF YOUR INTERPRETING / TRANSLATION NEEDS!